NEW ENGLAND SIBERIAN HUSKIES To be added to our list to be notified of upcoming litters, email me at nhnanna@gmail.com or call me at 603-998-7600 or 207-809-4222 (magicjack) for information on upcoming litters.
Cell phone is okay for text but does not come in for calls. Magicjack is better for calls.
We are not a puppymill.
We now have 10 Siberian Huskies.
We have 5 generations of females.
We also adopted Neiko, a white wooly Siberian for our future breedings.
We are located in Hill N.H.
R.I.P Mya & Rocky Mountain Blue eyes. Mya was our 2nd generation female who passed away May 2014.
Rocky Mountain Blue Eyes & Lady Shania III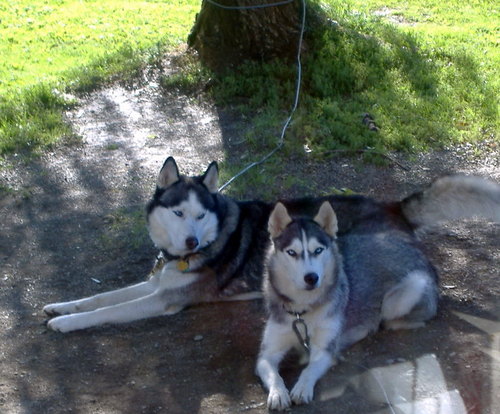 Welcome To My Home Page. We have been raising Siberians for the last twelve years and love every minute of it. It is like raising a second family. Our dogs live in the house with us. I think someone forgot to tell them that they were dogs. They love to ride and get plenty of exercise. Siberians are runners and the first chance they get they will take advantage of it and don't look back. If you are thinking of getting one, please,please, please, make sure they are on a leash or in a fenced yard or pen at all times because they will run first chance they get. All of our dogs are microchipped just in case they should happen to get loose. They are very loving and loyal dogs but do need alot of attention and exercise. They do blow their undercoats twice a year (shed) but other than that an occasional bath is all they need. They do like to chase cats or small animals if they are not brought up with them so if you have small animals please be careful.
For more information on available pups or stud service or to be put on our waiting list, please contact me at nhnanna@gmail.com or call me at ( 207)-809-4222 and leave me a message on my magic jack phone. It will go directly to my email. or 603-998-7600 which is my cell phone.
603-998-7600
nhnanna@gmail.com
nhnanna@gmail.com